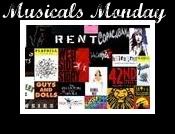 Dirty Dancing
is one of the movies I grew up with. We all wanted to be Baby, she was a modern day princess. Every girl wanted the dress Baby wears in the final number, and every woman, no matter what age, wanted Patrick Swayze as their dance partner!!
I don't know if
Dirty Dancing
actually qualifies as a musical, since no one is ever singing, however, there is
A LOT
of music throughout the movie, and people are dancing all the time. Since this is my blog, I'm calling it a musical!
Today for your Musicals Monday, enjoy the final musical number from
Dirty Dancing
,
"I've Had the Time of My Life"
.