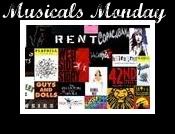 Evita
is a musical with music by Andrew Lloyd Webber and lyrics by Tim Rice. It concentrates on the life of Argentine political leader Eva Peron, the wife of Argentinian president Juan Peron. The story follows Evita's early life, rise to power, charity work, and eventual death.
Evita began as a rock opera concept album released in 1976. Its success led to production in London's West End in 1978, and on Broadway a year later, both of which enjoyed considerable success. A major film was made of the musical in 1996, starring Madonna and Antonio Banderas.
I like to root for the underdog. I cheer for the team who isn't the favorite to win the World Series, the student in class who isn't likely to get a great score on a test...but just might; yep, I'm full of betting against the odds!!
I was unfamiliar with Evita until I heard about the movie. Always being weary of actors who claim they can sing, (except for Madonna who's more like the singer who thinks she can act!) I didn't know if I was going to like Antonio Banderas. I enjoy him as an actor, but could he help carry a movie that is pretty much one song after another with hardly any plain "acting" lines? I found myself rooting for this to work. That, and the fact that I read that Madonna REALLY wanted this part, and had for years...I thought it was cool.
Anyway, Antonio didn't disappoint! This man can sing very well. It's almost more fun to just listen to the soundtrack than watch the movie, but then you wouldn't get to see his handsome face!
For your Musicals Monday:
"Oh, What a Circus"
, from
Evita