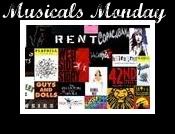 Annie
(the original) is the musical of my childhood. I can remember watching this movie and just singing and dancing to every song. I knew the dance moves, the words, you name it. Every girl wanted to be Annie, which was funny since she had such a rough life before Daddy Warbucks came along! I remember wanting all of the dresses and shoes she had, especially the red dress from the last song.
As an adult, one of my favorite parts of this movie is the
incredible
performance given by Carol Burnett as Miss Hannigan. She truly is an amazing actress, and is a joy to watch.
Today for Musicals Monday,
Little Girls
, by Carol Burnett.