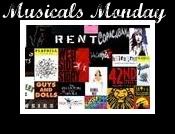 The Sound of Music
is another wonderful musical. I was first introduced to it when I was in 8th grade. Our junior high was doing a production of
The Sound of Music
, and I was lucky enough to be cast as Maria.
The chemistry between Julie Andrews and Christopher Plummer is one of the main reasons this is such a wonderful musical. Watching them look at each other while they dance, the way Georg looks at Maria while he sings
Edelwiss
, and the entire scene where they admit they love each other, you forget you're watching a movie and find yourself swept up into the blooming romance! I get goosebumps every time.
Looking on YouTube, I was hoping to find the scene where they finally admit their true feelings for each other. I found the song
Something Good,
which is the song they sing to each other, but I couldn't find the actual movie scene, which bummed me out.
The video I have for you today is about the love story of Maria and Georg. I just love how he looks at her, it is simply the sweetest thing!