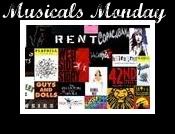 Another popular musical from my youth is
Grease
, starring John Travola and Olivia Newton-John. I knew the words to every song, and loved watching all the dancing.
What I didn't realize until I was much older, was how dirty the movie actually is!! There are sexually innuendo's throughout, and to this day I catch a new one every time I see it.
A perfect example of this is in the song,
Summer Nights
. Sandy is sweet and innocent, talking about how wonderful a guy Danny is, and how sweet he is, while all his friends want to know was how far he got with her!!
Dirty or not, it's a great song!