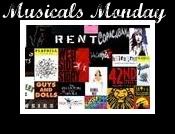 Rent
is a musical that I'm not very familiar with. It's a rock opera tha tells the story of a group of impoverished young artists and musicians struggling to survive and create in New York's lower east side under the shadow of HIV/AIDS.
On Broadway,
Rent
gained critical acclaim and won a Tony Award for Best Musical. The Broadway production closed on September 7, 2008, after a 12 year rn and 5, 124 performances, making it the 9th longest running Broadway show at the time, 10 years behind
The Phantom of the Opera
.
The first time I became familiar with this muscial was when I heard the song
"Seasons of Love".
Oddly enough, the version I first heard wasn't the one the cast sang, but from Donny Osmond!
This is a wonderful song, helping us to remember to love, not hate.