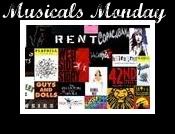 Adam, the eldest of seven brothers, goes to town to get a wife. He convinces Milly to marry him that same day. They return to his backwoods home. Only then does she discover he has six brothers - all living in his cabin. Milly sets out to reform the uncouth siblings, who are anxious to get wives of their own. Then, after reading about the Roman capture of the Sabine women, Adam develops an inspired solution to his brothers' loneliness.--
Movie recap written by someone else :)
I love this movie. The dancing is phenomenal, the music is fun, and it's simply a great story! One of the most amazing scene's from this movie is during the barn dance. Milly has "trained" the brothers the best she can and they are making their debut as "civilized" men, hoping to find brides.
For your Musicals Monday enjoyment,
Seven Brides for Seven Brothers.