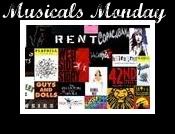 Oklahoma! by Rodgers and Hammerstein is another musical from my childhood. This was another play done by the local drama company where my mom played the piano and I turned the pages for her.
Curly and Laurey play a cat and mouse game of loving and then hating each other. It's so fun to watch because you know that they are meant to be together, that they love each other, and if the movie doesn't end with them having declared their love for one another, you'll be upset!
For your Musicals Monday, People Will Say We're In Love, from Oklahoma!