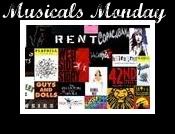 I have a confession to make: I've never actually seen the musical I'm talking about today in its entirety. There is one scene, however, that I think most of the world is familiar with, and that's what I'm focusing on today.
The King and I
is another famous Rodgers and Hammerstein musical. One thing I do know about this musical is that there are some amazing dresses worn in it. (Told you, my knowledge of this movie is very limited!!) The song today will feature one of the those amazing dresses, and of course a wonderful song and dance.
For your Musicals Monday,
"Shall We Dance?"
from
The King and I
.