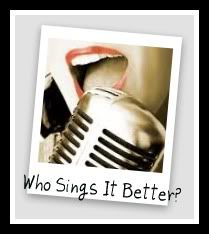 The Rose
, made famous by The Divine Miss M, Bette Midler, is one of the most famous love songs of all time. Today, we'll be matching up two versions of this song.
First up, a version by LeAnn Rimes.
Next up, the version made famous by Bette Midler.
So, which do I prefer? LeAnn Rimes sings a nice version of the song. Her voice seems a little immature for the song though. Bette Midler sings her heart out in this song, and when it goes into the third verse with harmony, oooh, I love it. Bette Midler wins for me.
So, who sings it better?