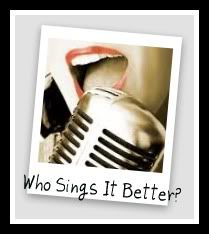 What Hurts The Most
is a song I first heard back in 2008 when Danny Gokey was on American Idol. His wife had recently passed away and this song was dedicated to her. I remember crying my eyes out! And then I searched for who released the song as a single.
Today I have three versions of this song for you. First up, the version by Rascal Flatts.
Next, a version by Mark Wills. I couldn't find the original video, so clips from the character Danny Messer from the show
CSI: NY
will have to keep you entertained!
Now, here's what I didn't know until I wrote this post. Mark Wills covered this song first! That came as quite a surprise to me. Between Rascal Flatts and Mark, I enjoy Rascal Flatts version more, but just barely!!
Finally, some singer I've never heard of, Cascada, decided to take a song that had been done beautifully
twice
(which is a rare thing to happen) and make us all wish we'd never hear it again!
So, which version do you prefer?