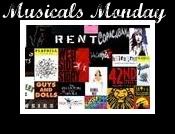 Fantasia
is one of Disney's greatest movies. Using famous composers such as Beethoven, Tchaikovsky, Dukas, Bach, and Gershwin, along with their most famous musical compositions, Disney created a masterpiece of fun, using Mickey Mouse and animals. And with only one brief exception, no words were ever spoken.
-Toccata and Fugue in D Minor by Johann Sebastian Bach
-The Nutcracker Suite by Piotr Ilich Tchaikovsky
-The Sorcerer's Apprentice by Paul Dukas
-The Rite of Spring by Igor Stravinsky
-The Pastoral Symphony by Ludwig van Beethoven
-Dance of the Hours by Amilcare Ponchielli
-Night on Bald Mountain by Modeste Moussorgsky
-Ave Maria by Franz Shubert
For your Musicals Monday,
The Sorcerer's Apprentice
from
Fantasia
.