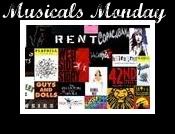 Last week Blogger decided it was no long going to let me upload videos onto my blog that I had already downloaded onto my computer. (get it?!) So I tried another way. I went onto YouTube and began learning about embedding videos. There was one video that I really wanted to show you, but as luck would have it, the video had no embedding code, which meant there was no way to put it on my blog to show you.
Out of frustration, I tried the button again today, AND IT WORKED! I can now begin uploading onto my blog all the videos I've downloaded onto my computer. Have I confused you yet? The best part is it means I can share with you the video I really wanted you to see!
I know I've done
The Sound of Music
before, but I came across this video after that first post. I completely
LOVE
this video, and wanted to share it with you today.
The song fits the video perfectly. At 0:28, Georg's smile to Maria melts my heart every time. And as they dance together, the music continues to move perfectly with the video, it's wonderful to watch.
For your Musicals Monday,
The Sound of Music
. Hope you enjoy it as much as I do!