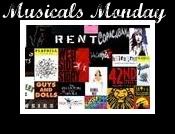 One of the last great Disney movies (in my opinion), was The Lion King. I don't remember the last time I genuinely cried while watching an animated movie, but I balled my eyes out when I first saw this movie. Oh, let's face it, I still cry!

Beautiful music, a wonderful story, this movie has it all.

For Musicals Monday, the scene that made people want to jump into the theatre screens and kill Scar...after they finished crying, that is! Mufasa's death.