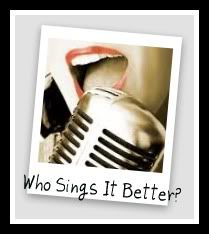 Inside Out
is a song I first heard by Bryan Adams on his album
On A Day Like Today
. I have two versions of it for you.
First up, the original version by Bryan Adams. The video is set to scenes from the TV show
Alias
. Sorry, but the actual video for this song was just a little too racy for me to put on my blog!
Next up, Trisha Yearwood. I found this by accident. Here she is with Don Henley singing her version of the song.
So, which do I prefer? Oh boy, this was easy. I DO NOT like her version at all! The country spin doesn't work, and it feels like she sped the song up. It doesn't help that the video is very confusing to me. Are they showing everyone on the street that they are in love, or putting on a concert?!?
Bryan Adams wins, hands down.
Who sings it better?