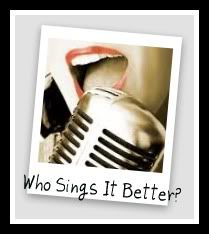 I'm going to go a very different musical direction today. Usually I present soft rock/pop songs. Believe it or not, there are quite a few heavy metal songs that I like.

Today I have two versions of the Guns N' Roses song November Rain. I LOVED this song when it was first released. I don't understand the video AT ALL, but LOVE the song. Guns N' Roses version is up first.
Next up is a version by an artist I've never heard of before: Anakelly.
First of all, are these really the same songs? I don't know who this Anakelly person is, but holy cow, did she ever change this song! I was
STUNNED
when I heard it. I almost couldn't remember the Guns N' Roses version after listening to it. Wow. Usually cover songs are just lame remakes, where nothing is really different. Not here. This lady takes this song and
COMPLETELY
changes it around. I am very impressed.
Which version do I prefer? Well, the Anakelly version is good, but I don't know if I would find myself listening to it. The Guns N' Roses version, however: I blast that song all the time. Guns N' Roses wins for me, but I give
MAJOR
credit to Anakelly for taking such a popular song and making it almost unrecognizable. That's the way cover songs are supposed to be!
So, who sings it better?