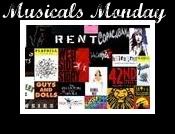 Phineas and Ferb is the funniest cartoon on television. The series follow Phineas Flynn and his English stepbrother Ferb Fletcher on summer vacation. Every day the boys embark on some grand new project, which annoys their controlling sister, Candace, who tries to bust them. Every episode almost always features Perry the Platypus (Agent P), acting as a secret agent to fight an evil scientist named Dr. Heinz Doofenshmirtz. The two plots intersect at the end to erase all traces of the boys' project just before Candace can show it to their mother. This usually leaves Candace very frustrated. The series is also known for its musical numbers, which have appeared in almost every episode since the first-season.
The music is the reason
Phineas and Ferb
is appearing today. The writers took the first episode of the show, tweeked it, and turned it into a musical. The following is a clip from that episode where Phineas and Ferb parody well-known musicals, including:
Cats
The Phantom Of The Opera
Oklahoma!
Singin' In The Rain
Fiddler on The Roof
West Side Story
The Music Man
Les Miserables
The King and I
Chicago
Cabaret
For your Musicals Monday, Phineas Flynn singing,
Hey Ferb