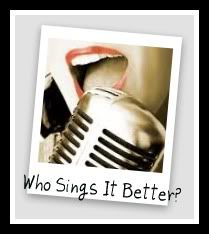 Popular in the 1980s, Christopher Cross sang the theme song for the movie
Arthur
, (
The Best That You Can Be
), along with the following song,
Sailing
.
This has always been one of my favorite songs, but it was released in 1986, before I really knew anything about music. Years later, it took me a long time to discover who sang this. I was SO excited when I did!
Next up, a version by NSYNC. This video is completely cheesy, so try to listen to the song and block out the fact that they're flying through the air!
When I went searching for a cover of this song, I didn't expect to find one that I actually LIKE!
Which version do I prefer? This is actually a tough call. I would probably like the NSYNC version better if they weren't flying through the air, and just singing the song. JC does a fantastic job singing this song. (Oh, and the only reason I know his name is because of the comments on YouTube! This boy band was a little past my time!) That being said, it's a great cover!
However, Christopher Cross will win for me, every single time!
So, who sings it better?