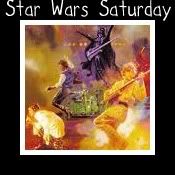 While promoting his new movie
Cowboys and Aliens
, which I can't wait to see, Harrison Ford visited the Jimmy Kimmel show. Apparently he and Chewbacca have some unresolved issues. I thought this was funny, and a little disturbing at the same time! Harrison Ford does a great job of making me actually believe he's mad at Chewbacca!
Oh, and for any other Star Wars geeks out there: this confrontation couldn't actually happen because in the expanded universe novels, Chewbacca was killed off! I still can't believe how many characters the authors have axed! Anyway....
And since I'm so excited about
Cowboys and Aliens
, here's a movie trailer. Harrison Ford and Daniel Craig in the same movie, come on, I am in heaven! It looks like it will be a very different movie, which is why it looks like it will be
AWESOME
!