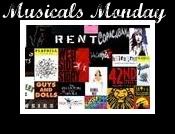 Let's face it: this is becoming a difficult page for me to keep up with! I love musicals, but I can only write about so many of them before it starts getting simply....well, repetitive and old.
So I've decided to add another element to my
Musicals Monday
page. If it has to do with music, it now counts! Music videos, music I like, anything.
Rascal Flatts is my favorite group. I love that they are three clean, family men who sing clean,
fantastic
music. I was introduced to them years ago while I was attending BYU-Idaho, but really got back into them about a year ago. If I'm in the car, I'm listening to Rascal Flatts. If I'm at home doing housework, Rascal Flatts can be heard in the background. They are so awesome that even Brandon now loves them. He knows the words to all the songs I listen to, and proudly sings them with me!
One of my favorite songs by Rascal Flatts is their newest single from their album
Nothing Like This.
The song is titled
Easy
, and is a duet with Natasha Bedingfield. I love this song; the music, the lyrics, everything! And when Brandon and I sing it, he insists that he sing the "guy" part, and I sing the "girl" part....too cute!
I also really enjoy the video to this song. The ending is especially sweet, but I'm all for a good romance.
For your
Musicals Monday
: