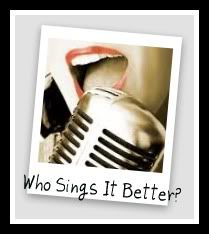 It's back to the 1980s today, to a song that I've always enjoyed. Crowded House had a very popular song titled
Don't Dream It's Over
.
First up, the version by Crowded House:
Next up, a version by a group called Sixpence None The Richer. The group sounds familiar, but I've never heard their music before....sorry.
Which version do I prefer? I actually really like both, which surprised me. But in the end, the harmonies on the chorus of Crowded House's version win for me. When they sing, "to build a wall between us"....chills, every time!
So, who sings it better?