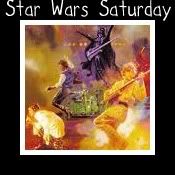 Wow, I haven't done this in so long, I've almost forgotton how blogging works!
This morning, on Facebook, my cousin's son, (my first cousin?) posted this to his account. We ALL know what a huge fan I am of
Star Wars
, so how could I resist? I HAD to post this!
Okay, why do I think this is blog worthy? First of all, hearing just the cello play
The Imperial March (Darth Vader's Theme), The Star Wars Main Title
, and
Duel of The Fates
was a wonderful twist to the usual versions. There were some nice added rhythms that made it fun to listen to.
But let's face it: what a unique idea! And for once, the Darth Vader costume looked real. Most of the time on a YouTube video the costume looks like someone made it; this one, not so much.
For me, the video just didn't look stupid. Parodies often are. I thought everything that was done added to the cleverness. And what a fun way to promote learning how to play a musical instrument! But that is just my opinion, and I am, after all, obssessed with
Star Wars
!
What did you think?