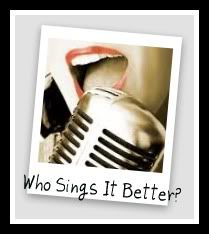 Another song that has been done many times (because it's such a wonderful song!), is
You Raise Me Up
. I have two versions today.
First up, a group called Westlife. They showed up here a few weeks ago singing a song with Mariah Carey.
Do you think the lead singer sounds a lot like Josh Groban, or is it just me?
Speaking of Josh Groban, his version is next.
The two songs are so ridiculously similar, which is boring. And like I said earlier, Westlife sounds so much like Josh Groban, it's crazy.
So, which do I prefer? Josh Groban edges out Westlife. There's something magical about Josh's voice. He wins for me.
Who sings it better?