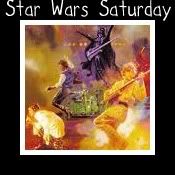 So, how does everyone like my new blog button, well buttons?!? I spent quite a while on them last night, but I finally figured it all out!
Today, I want to share with you an awesome picture I found while making this button. (Of course it's Star Wars related!)
I'm not a big fan of shoes. If they are comfortable and fit well, that's good for me. I don't drool over shoes, like a lot of women do. And I'm no Carrie Bradshaw; I don't have enough shoes to fill an entire closet.
However, when I saw this picture, I never wanted a pair of shoes more in my life!!!
Holy cow, these shoes are SOOOO AWESOME! I am jealous of the person who owns them. Some people would pay $700 - $900 for a pair of Manolo Blahniks; not me. However, taunt me with these shoes, and maybe I would do it!!!