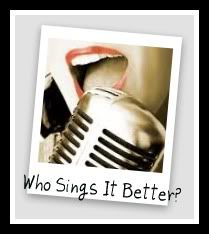 I'm finding that my "match-ups" tend to be easy decisions. While toodling around on YouTube yesterday, I found a song that may be a tough call.
"Bring Him Home"
from the musical
Les Miserables
has always been a powerful song, and one of the highlights of the musical.
First up, Michael Crawford, also known as The Phantom from the musical
"Phantom of The Opera".
I apologize in advance for the quality of the video. It's the music that's important to listen to!
Next up, another powerhouse singer, Colm Wilkinson, who has played many characters from
Les Mis
throughout his career onstage. I would encourage you to listen to the clip before actually watching it....this clip is more exciting and I don't want it to influence your decision!!
So, which do I prefer? This is probably the
hardest
call for me to make yet. Both men have such incredible voices. Normally the first version I hear is the one I prefer. The first time I heard this song, Colm Wilkinson was singing it. However, that being said, Michael Crawford's version is equally amazing.
For the first time, I think I have to call this one a
tie!
I could listen to each song over and over and not tire of them. Wow, it finally happened; I found two versions of the same song that I actually like!!
Who sings it better?