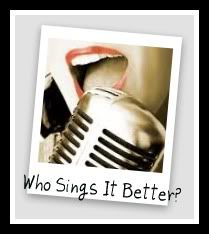 Our match-up today is a song that I first heard from the movie
Cars
,
"Life is a
Highway"
.
The first version is by a man named Tom Cochrane, a man I had never heard of before.
The second version is from the movie
Cars
. It's by Rascal Flatts, the group that made country music fun for me instead of making me want to throw up whenever I was unfortunate enough to hear it!
Which do I prefer? Well, as it is in most cases, I enjoy the version I heard first, Rascal Flatts. There's really nothing "wrong" with Tom Cochrane's original, but I think the Rascal Flatts cover is much more fast paced than Tom Cochrane's version, and the video is much more fun.
Brandon also LOVES this song, and always asks to hear "Life is an Alice" when we're in the car. Why he thinks they say "Alice" is beyond me, but it's just too cute!
So, who sings it better?