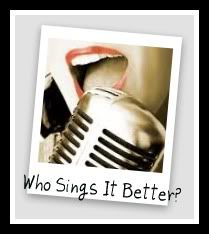 Today we're going to have one artist covering their own song two different ways. Celine Dion sings a song titled
A New Day Has Come
. The first version I will show you is the first version I heard. It's the original that was released as a single for her.
The second version is slow. I don't remember where I heard it, but I loved it!
So, which do I prefer? I enjoy both versions of this song quite a bit. However, I enjoy the slow version more. It makes me feel better when I'm having a crappy day, and even though they are the same song, the slow version just speaks more to me, where the fast version is simply fun.
Who sings it better?