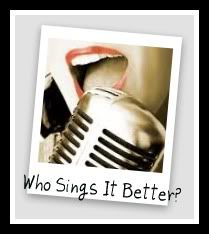 Our match up today is the song Mad World. First up, a version by Gary Jules. This video is intriguing to watch; they make shapes with people, it's fun.
Next up, Adam Lambert. The only version I could find was the one he sang on American Idol. Once you get past the first 30 seconds the song begins.
Which do I prefer? Gary's video is fun, but without the cool video I don't think I could listen to it over and over again. Adam changes up the melody, and adds his own style to it. Adam wins for me.
So, who sings it better?